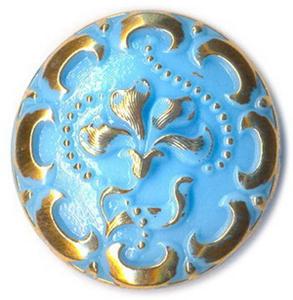 "Anything But Oridinary" is the name of the jacket pattern I'll be using for the printed linen. Of course I'll do the short-sleeved version. I've already made this up in fleece and have worn it all winter with matching pants. Cozy! Now I'll see how it does at sea. One of the rules of this year's SWAP is that one garment must have an unusual closure or buttons. I guess this jacket will have to be that item because everything else will drop right over my head. Here's the description of the button I've just bought from EBay: This button is hand crafted in the Czech Republic. Each button was hand pressed and hand painted using original czech methods that haven't changed in over two hundred years. You will never see buttons as beautiful or as unique as these anywhere else in the world. They come from only one town in the world in Northern Bohemia (Jablonec) where there has been traditionally the best glass workers and button makers in all of Bohemia.
Here is some informations about how the buttons are made:Most of our buttons are hand painted and gilded. Gilding is a very dificult trade to master because the temperature of the kiln must be over 800 degrees C.
I've put all this into the blog because I'll never remember it when I have to post details of my SWAP over at Artisan's Square....